Sending an online food order to an SMS or GPRS printer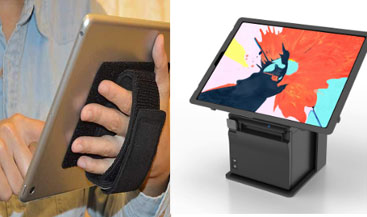 The food-ordering.co.uk online/mobile ordering system, by default, sends orders to your restaurant/takeaway business via email. However, it is indeed possible to utilise sms or gprs printers which use the GSM/3G mobile phone network to receive orders from a restaurant's website.
An sms printer is basically a small portable and stand-alone device for receiving and printing text messages sent to it. It takes the advantages of the wide coverage of mobile phone network and is suitable for restaurants to receive orders either directly from their own online ordering system, or any other situation where messages need to be conveyed to a remote party.
Food-ordering.co.uk takes the simple sms approach to sending orders to a restaurant. It uses a third part sms-gateway to effectively send an sms message to the mini sms printer. The printer then automatically prints out the order. It is the same concept as a mobile phone, with the difference that instead of a screen the printer simply prints out the order.
Sms messages are sent in the same method as emails, and as such it is extremely easy to integrate and use, even when the sms-gateway supplier changes to a new one at a later date.
Finally, just as a general note, Food-ordering.co.uk is a great system for online food delivery and available with desktop and mobile version and is not only restaurants but for any kind of business in the hospitality industry including pastry makers, caterers, takeaways or even resorts and hotels seeking an in-restaurant food ordering system using an ipad or a tablet or any other type of mobile device.
Brought to you by what we think is the best online food ordering system for restaurants and takeaways in the UK.